The only thing that travels faster than a rumor is the word "gold,"and rumor had it that an inbound ship had a lot of gold in its belly.
They said a ton.
That wasn't quite correct; it was more like two tons.
By the time the SS Portland tied up to Shwaubacher Wharf at 6 o'clock on the early morning of July 17, 1897, five thousand men gathered to see if the rumor was true.
We can surmise that rain dripped on those assembled because, after all, this was Seattle.
The sun was up, perhaps obscured by leaden clouds.
All that most likely went unnoticed by men who were already showing symptoms of fever, gold fever.
Gold arrives in Seattle.
SS Portland
Three days prior, a different steamship tied up San Francisco, also loaded with gold from some place called the Klondike, wherever that was.
The men didn't care, they were going anyway. First, though, they had to get to Skagway in Alaska.
The fever spread faster than any viral or bacterial pandemic, and 10 days later, 1500 hopeful men departed Seattle for the gold fields and the riches there.
Two thousand New Yorkers tried to buy tickets within 24 hours, but the locals had purchased them first.
Later that day there were so many people in the streets of Seattle, the street cars had to shut down.
When word about the gold strike reached Seattle's mayor, who was in San Francisco at a convention, he wired his resignation immediately and headed north, not even bothering to stop in Seattle along the way.
Eventually, more than 100,000 hopefuls would travel north to cross the treacherous Chilkoot Trail in Alaska.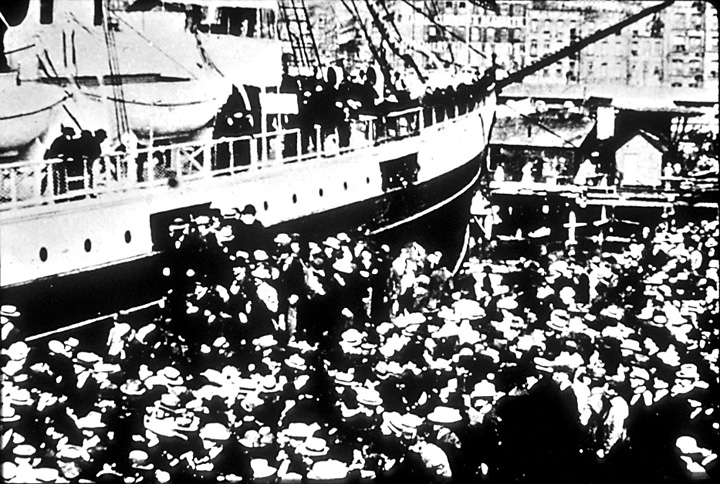 Leaving San Francisco for the Klondike gold fields.
By the time the rush was over in less than a year, only 30,000 made it to Dawson City in the Yukon Territory.
But, for now, the rush was on.
SS Excelsior leaving San Francisco for the gold fields.




(I don't know what I did to throw blogspot into such a tizzy, but I'm going to have to post this chapter without adding how I am connected to it before I lose the whole thing.)