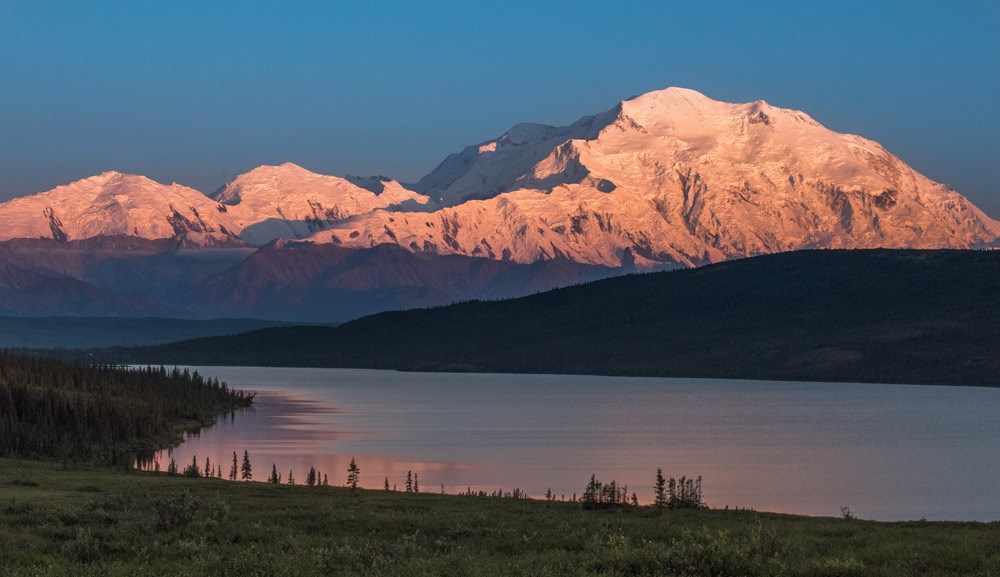 Denali, photo from USPS web page
Denali.
One word. Not Mount Denali or Mt. Denali or Denali Mountain. It's recognized by only that one word: Denali.
Once called Mt. McKinley after President William McKinley, a decades long movement to change the nameback to its original native name of Denali finally succeeded on the 100th anniversary of the US Park Service. Denali comes from
deenaalee,
the Koyukon language spoken by Alaskan natives on the northern side of the mountain.
At 20, 310 feet, Denali is the highest mountain peak on the North American continent, and the third highest of the Seven Summits, which are the highest peaks on the seven continents.
This information comes from the Live Science web site:
There is a distinction between measuring "highest" and "tallest." The highest mountain is determined by measuring a mountain's highest point above sea level. The tallest mountain is measured from base to summit. Using that measurement, Denali is taller than Mount Everest. Denali rises about 18,000 feet (5,500 meters) from its base, which is a greater vertical rise than Everest's 12,000-foot rise (3,700 meters) from its base at 17,000 feet (5,200 meters).
Every September
,
the Park Service allows the winners of a Road Lottery to drive their private cars as far as 92 miles into the park on the only road. All other times, tourists must ride a park bus, or drive in 14 miles to Savage River, park, and walk from there.
I was given a lottery pass by friends, so on a beautiful Sunday in mid-month, I hitched up my travel trailer and headed 336 miles north. After dropping the trailer in an RV park, I explored the area outside the park.
I drove the allowed 14 miles to Savage River, getting familiar with the area and hoping to see animals, such as the large bull moose that rut in this area. While I didn't see anything, the scenery on this partly-cloudy day was spectacular. Autumn is lingering this year and usually the fall colors this far north would be almost gone.
Don't know these people, but they occupied the sign for a long time with various combinations of people for photos.
No, not Denali, but another beautiful mountain.
Rock formations at Savage River.
Tuesday morning, I began the drive. The weather was far from ideal. Showers and fog obscured much of the landscape, occasionally clearing as I entered different ecozones, then closing in again.
I knew before I started that driving alone and spotting animals was going to be difficult. Therefore, whenever I saw a vehicle stopped, I also stopped.
I came upon this vehicle stopped in the thick taiga forest early on in the drive. A big lens protruded from the right side of his car. Birds, I thought. He must be photographing birds. I decided to follow him.
John, a photographer from Arizona, comes up every year to drive the park.
We climbed up and up into the open alpine country and the vehicle stopped again. I walked up and talked to him. "What were you shooting back there in the spruce? Birds?"
"No," he said. I'm not a bird guy." I asked again and his somewhat abashed reply was, "A bunny."
He then pointed across a draw and I saw what would be my one and only bear on this drive. It was a gorgeous grizzly, dark with silver tips that almost glowed with minute rain drops.
I followed John for a while at 15 to 20 mph. Because I also stopped where others were stopped, we became separated.
At one place, and despite a lot of pointing, it took a while for me to spot the animals way down the hill. "Too far away to get a good shot," said the guy.
I went back to the truck and got the
big ammo
--the 150-600mm lens.
"She won't have any trouble," said the lady with him when she saw that lens.
There were caribou in a river drainage, all headed in the same direction.
Somewhere down there are caribou.
Two bulls. Photo highly cropped.
A little farther on were a bull and cow.
And then the drive got really exciting. This was more about watching the road than looking for animals!
Blind corners, no guard rails. What more could you want?
I don't mind driving this when I'm in control. When someone else is driving, I"d be a bit agitated.
A Park service outpost with restrooms and gift shop.
And on I went, watching the road and searching for animals. The weather closed in and by the time I reached the Eielson vistor's center, visibility was very limited.
The visitor's center is under the mound at center right. Usually an expansive view of a large valley--and Denali, when she's willing--everything is socked in.
Accumulated mud on the running board.
After a short break, off I went toward Wonder Lake.
Along the way, a red fox entertained us. It seemed to want to cross the road, but was too shy.
After probing several spots where it could slip between the various vehicles stopped on the road, it finally trotted across the road. Then, it seemed to forget why it wanted to be on the other side.
Now what?
That's a wet leaf stuck to its muzzle.
It crossed back, but this time it lingered in the road. It smelled something in the dirt and ate it, then leisurely made its way back onto the tundra and disappeared.
I drove on, pausing occasionally to take photos of waterfowl on the ponds, more to ID them than to make a nice photo. I passed Wonder Lake, the terminus for the summer tour buses, and drove another 12 miles to Kantishna.
The end of the road, farther than I'd ever been before. But Kantishna held some surprises.
Next: Part Two: Outward Bound