Chapter 17:
Olympians All
Never put an age limit on your dream.
-Dana Torres, four- time Olympic swimming champion.
I'm spending some free time on my lovely deck at Finch Hatton resort, trying to catch a pied kingfisher diving into the water and coming out with a fish. It's a challenge with inherent monumental frustration, but oh-so-fun. You never know where the bird is going to hit the water.
All you can do is focus on the bird as it hovers and try to follow its quick flight path from side to side and up and down. Then, depend on your reflexes and fast shutter speed to catch something. Anything. I could get them coming out of the water, but not going into it.
On the way to lunch, a Skyes monkey is spotted high up in a tree by the bridge and we all try to get photos but it's well hidden by branches. Yes, we are armed with our cameras because of the sunbirds in the flowering bush beside the dining area. Staff has set baskets on side tables for us to place our cameras in, rather than putting them on the floor.
We fill the baskets and the rest go on the floor.
After lunch, I'm back on the deck and a bunch of Syke's monkeys appear across the narrow neck of water beside my tent. After a while, I see one on the shore the and watch it. It approaches a long-dead tree trunk and sits down.
Then it sticks its hand into the log, withdraws it, and licks its hand. Not until I get the photos on my computer do I see what it is eating and even then I'm not sure with it is.
You need a lot of room to include the tail in a photo.
Note how wet the monkeys hand looks.
Some small, whitish things can be seen on its hand and lips. Other photos show a sticky, slimy substance somewhat like saliva or honey. The monkey carefully licks its hand, turning it over and inspecting it for more, and then puts it back in the log.
These are several guesses: termite eggs or some other kind of insect eggs. As for the slimy stuff, I'm left with saliva, and that's a poor guess.
Later, we're out on our game drive.
Tsavo scenery
The vervets came out to play on the lawn at camp.
Vervets
Vervets
Suddenly, the driver turns and heads back in the direction of camp but instead of turning in the drive, he drives farther than we have even been from the lodge. On and on we go with this Ferrari Safari, and then he takes us down a hill and into a flat meadow.
A tent is set up with a table full of alcoholic and non-alcoholic beverages and an assortment of cheeses, nuts, and crackers. It's what's called a sundowner, but this one requires audience participation beyond eating and drinking.
A tall, slender Maasai is holding a spear and shield. This is Isaac and he is posing for us.
I ask him to look fierce and that brings a smile to his face.
"No, fierce. Mean." He giggles.
No matter how solemn he tries to look there is always the hint of a smile. Our ribbing doesn't help.
This is as fierce a look as Isaac can manage.
We are going to be treated to the Maasai Olympics, a demonstration of the three traditional Maasai warrior weapons: a spear, a bow and arrow, and a rungu (akin to a knobkerrie).
The spiel is that the tradition of boys having to kill a lion with a spear for his right of passage to become a warrior is now being supplanted by the "Maasai Olympics." With tourism becoming a major part of Kenya's economy, many young Maasai have turned to protecting lions, elephants, rhinos, and other iconic African animals. Javelin throwing contests provide the young men a chance to earn prize money as well as show off his prowess.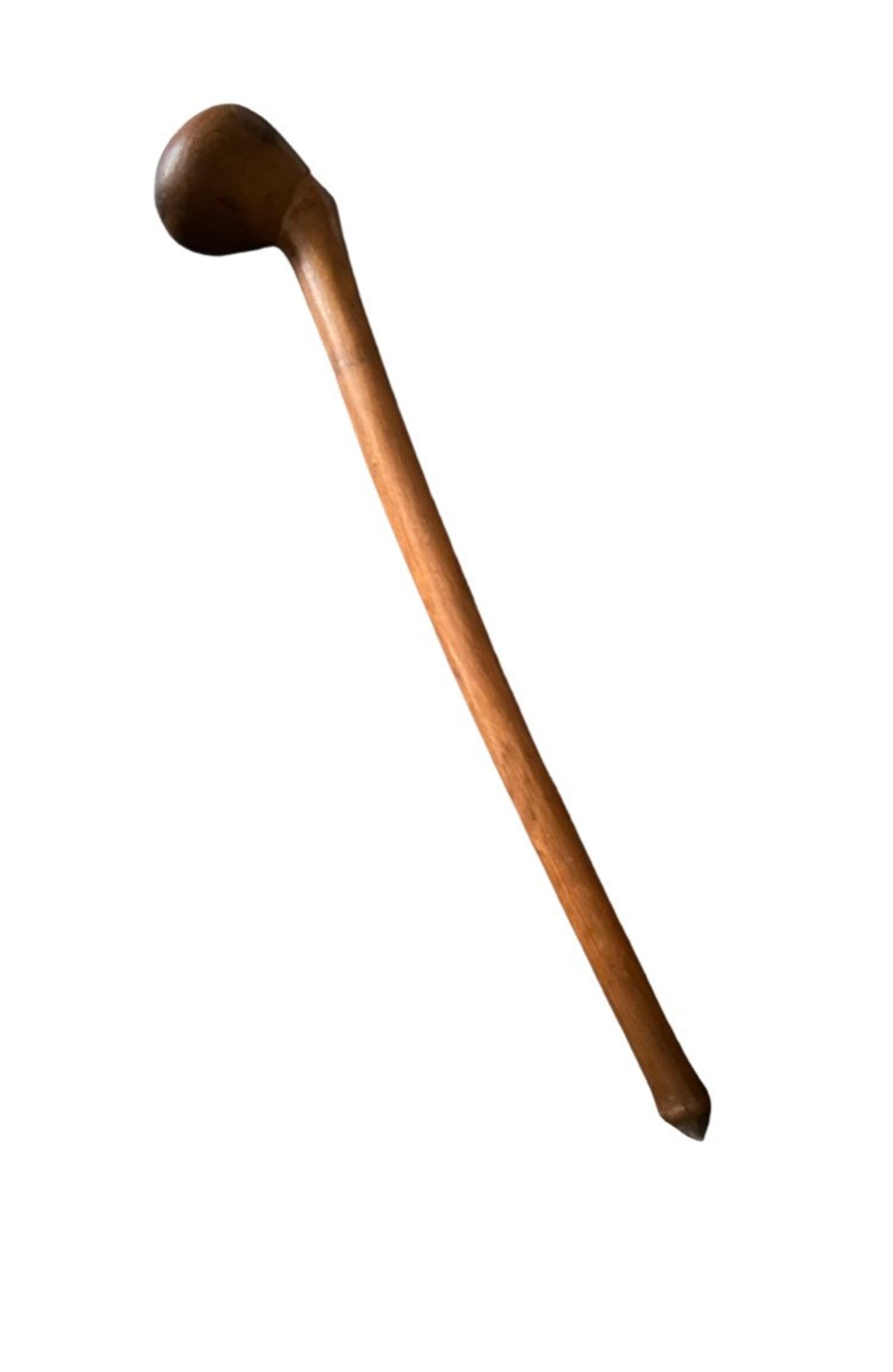 Rungu
So, we are participating in a much smaller version of the Maasai Olympics.
First up is rungu throwing. A target is set up with a basket attached behind it to receive the rungu, which is a hand-carved long stick with a hard knob on its end.
I did okay once I threw a couple and got the feel of the rungu's weight and balance. Not great, but I did make a basket or two. Randy did very well.
The archery target is at the left. We stood ridiculously close to all the targets.
Up next was archery. I practiced western-style archery when I was younger but this archery was different in a couple aspects: the bow is not held vertical but at a 45 degree angle tilted to the right and the arrow is placed on the left side of the bow string.
I did well. I would have had three bulls eyes had one arrow not hit an arrow already in the target. I think it was Sylvia who did exceptionally well.
It was too dark for throwing the spear by the time that came around.
This was a hoot! Everyone who wanted to participate did. The sun set while we were pretending to be warriors and many of my photos with my cell phone did not turn out.
Nonetheless, Marg captured these videos:
Pointing to my two bullseyes.
What would have been a third is lying on the ground after hitting another arrow.
And with that, Randy and his Six Wives returned to Finch Hatton luxury resort where we dined a fresco under a full moon, entertained by a bushbaby dashing about the roof tops and serenaded by the sweet
song of a tiny nightjar.
Red-headed agama
We got a peek at two elephants here. This one.....
Gray-headed kingfisher.
A couple zebra.
Maybe a pet hyrax isn't such a good idea. Look at those teeth.